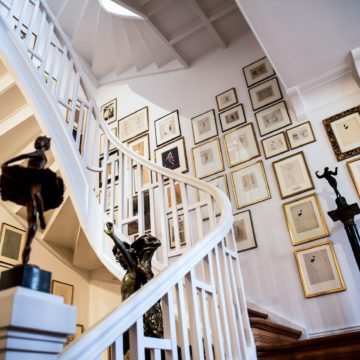 Stiftung John Neumeier © Kiran West
Excursion
Monday 17. February 16:00
ARCHIVE JOHN NEUMEIER
During the Biennale, the participants can visit the archive of the Foundation John Neumeier.
John Neumeier's dance and ballet collections, accumulated over a period of decades, form a unique amalgamation of an art collection, a library and an archive that is renowned in academic circles around the world. The function and aim of the Foundation is to preserve and portray the history of ballet through words and images, documents and objects and to present them together with the catalogue of John Neumeier's work in a comprehensible and tangible way within a sympathetic artistic environment.
The Foundation John Neumeier was founded on February 23 of 2006. It represents in a sense a »third pillar« of John Neumeier's artistic activities in Hamburg – a place designed for dance studies and the research, documentation and presentation of dance – together with the Hamburg State Opera, the performance venue of John Neumeier's ballets and the Ballet Centre Hamburg John Neumeier, where the ballets are created and the dancers learn their craft.
Feb 17, 4:00–5:00 pm + 5:00–6:00 pm
Feb 19, 1:00–2:00 pm
Feb 20, 4:00–5:00 pm + 5:00–6:00 pm
Feb 21, 1:00–2:00 pm
Station Kellinghusenstraße (Meeting point)
Continue reading →